Palestra: "PRODUTOS DO MUNDO NO BRASIL … E PRODUTOS DO BRASIL NO MUNDO?!?"
Palestrante: PROF. DR. OZIRES SILVA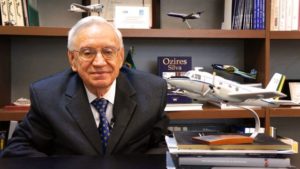 OZIRES SILVA is an aeronautical engineer graduated from the Aeronautical  Technology Institute (ITA) and Air Force Colonel. In 1969 he led the group  that promoted the creation of EMBRAER, one of the largest aerospace  companies in the world. He commanded the team that designed and built  the Bandeirante airplane and started the industrial production of airplanes  in Brazil. He presided over EMBRAER until 1986, when he accepted the  challenge of being the president of Petrobras, where he worked until 1989. In 1990, he assumed the Ministry of Infrastructure and, in 1991, returned to EMBRAER, playing an important role in conducting the privatization process of the company, which was completed in 1994.
Palestra: "DESENVOLVENDO A SUSTENTABILIDADE NA INDUSTRIA DE MANUFATURA: NOVOS MODELOS DE NEGÓCIO E PRODUTOS COM MAIOR DESEMPENHO AMBIENTAL"
Palestrante: PROF. DR. JOAO F. G. OLIVEIRA
 Joao F. G. Oliveira is Professor of Mechanical Engineering at University of São Paulo  and Vice-President of Brazilian Academy of Sciences. He is an expert in Advanced  Manufacturing, especially on precision machining, monitoring systems and processes  for surface functionalization. He was co-founder and first President of EMBRAPII, the  Brazilian Agency for Innovation in Industry (2012-2015) and advisor for the Minister  of Science and Technology of Brazil on Innovation Issues. He received several major  science awards in Brazil, including the Great-Cross of the National Order of Scientific  Merit by the Presidency of Brazil; the Personality of Technology Award by the São  Paulo Association of Engineers; and the SAP Americas Innovation Award. Prof.  Oliveira has worked as a consultant on precision manufacturing for the automotive industry worldwide including BMW, Hyundai, Chrysler, Mitsubishi, TRW, Saint Gobain, among others. He currently serves as member of the Board of the major research financing agencies of Brazil (CNPq, Capes and FAPESP), the Brazil's President Council of Science and Technology (CCT) and six public research institutes.  He is Fellow/member of the Editorial Committee of the International Academy for Production Engineering (CIRP). Prof. Oliveira has published over 200 papers in journals, conferences, magazines and newspapers and holds five patents.
Palestra: ADDICTIVE MANUFACTURING TECHNOLOGY BY SELECTIVE LASER MELTING – SLM
Palestrante: PROF. DR. IGOR YADROITSAU IHAR
 Prof. Igor Yadroitsev (Ihar Yadroitsau) is Research Professor at Faculty of Engineering  and Information Technology, Central University of Technology, Free State. In 2015 he was  appointed as SARChI Research Chair in Medical Product Development through Additive  Manufacturing. Prof. Yadroitsev has 32 years of academic experience in Applied Optics &  Laser technologies (selective laser melting/sintering, laser processing, material science,  optics). He has strong interdisciplinary background and extensive experience in the field  of Physics and Engineering. He published more than 130 papers and he is a holder of 10  patents.
Palestra: MACHINE TOOLS, MULTITASKING AND HYBRID FABRICATION
Palestrante: PROF. DR. LUIS NORBERTO LÓPEZ DE LACALLE.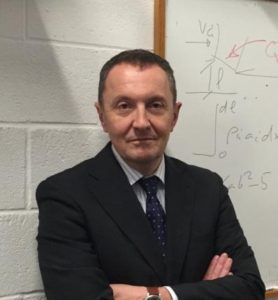 Prof. L. Norberto López de Lacalle is a leading expert in the area of Manufacturing technologies for aero engine components, in addition of a long career working in machining and machine tools. More than 120 JCR works endorse the activity of Prof. López de Lacalle at the University of the Basque Country, in Bilbao, Spain. Currently he is the Director of the new Centre for advanced manufacturing centre for aeronautics CFAA, a partnership of university and 35 companies. Prof. López de Lacalle will lecture about the evolution of machine tools towards the multitask concept, including non-conventional technologies as well.
Palestra: Internet Industrial (INDÚSTRIA 4.0)
Palestrante: PROF. DR. RUI TADASHI YOSHINO
Líder de Grupo de Pesquisa Industry 4.0 CNPQ. Um dos criadores da Collaborative Research Network on Supply Chain 4.0. Pós-doutorado na Université de Sherbrooke (Quebec-Canadá). Doutorado em Engenharia de Produção (EESC/USP). Mestrado em Planejamento de Sistemas Energéticos (UNICAMP). Professor adjunto – Engenharia de Produção da Universidade Tecnológica Federal do Paraná. Chercheur invité – Universite de Quebec a Montreal (TéLUQ-UQAM). Participante como pesquisador no Grupo de Pesquisa SB-LAB – Sustainable Business Laboratory / Laboratório de Negócios Sustentáveis -FCA/UNICAMP Tem mais de 30 anos de experiência na área de Engenharia de Produção (academia e empresas), com ênfase em Industry 4.0 e 3D Printing, atuando principalmente nos seguintes temas: Industry 4.0, 3D Printing, Supply Chain Management, Operations Management, Production Planning & Control, Logistic, Sustainable, Lean Healthcare, Lean Manufacturing, Social Network Analysis, Agent-based Simulation, System Dynamics.