Only registered participants will have access to the restricted area of the ENCIT 2020 website,
which will be open during the conference. The login and password (see below) are the same
used to access the ABCM events system.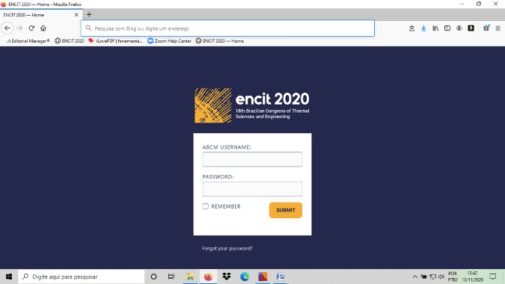 On the restricted area, you can easily access the list of keynote lectures, the proceedings of
the conference, including all papers and the respective videos, and the sponsors information
as shown below. On the notification board, on the right, you can access the links to the live
lectures and meetings, which will be updated daily.
Important: Before each live session, make sure to refresh your browser, as the links to the
meetings may be modified during the day.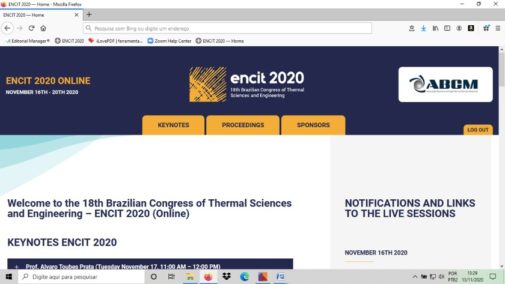 All keynote lectures will be held live, according to the schedule in the Conference Program
(available at the public area of the website: https://eventos.abcm.org.br/encit2020/). The live
lectures will be recorded and uploaded on the Keynotes ENCIT 2020 panel in the restricted
area (see below). Thus, , participants that could attend a certain live lecture will be able to
watch it during the week of the conference.
The lectures will be held via Zoom webinar. Eventually, participants will be asked to enter their
name and email to get into the live section. Attendees can ask questions via Q&A tool. The
chair of the session will select or synthesize the questions at the end of the lecture. When
writing the questions, participants are kindly asked to identify their names and institutions.
All papers and the respective presentations can be accessed by symposium on the Proceedings
ENCIT 2020 panel (below).
Important: Authors are asked to verify if the links do their paper and video are working
properly.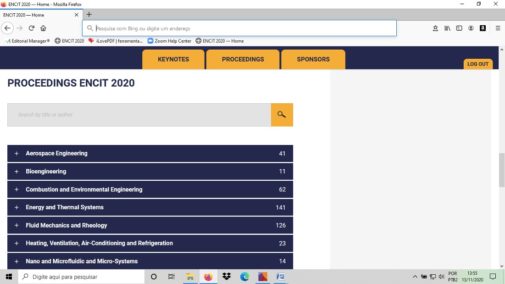 There will be no specific time for the author to present and interact live with the audience.
However, all authors are required to enable the chat of their YouTube video. The participants
can ask questions or add comments using the YouTube chat. The authors are expected to
respond all questions during the week.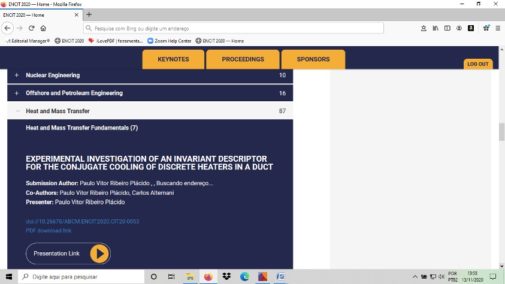 To enrich the online conference experience, authors and participants should interact in well
thought comments, questions and answers, so other participants can benefit from this
additional information. Participants are also kindly asked to identify their names and
institutions.
Important: To access the chat, just click in the Youtube in the right bottom of the video (see
below).