The University of Brasília (UnB) was founded on April 21, 1962, two years after the inauguration of Brasília. By the time, the university offered 14 graduation nuclei: Mathematics, Physics, Chemistry, Geoscience, Biology, Human Sciences, Language and Literature, Architecture and Urbanism, Engineering, Education, Law/Economics/Business/Diplomacy, Agricultural Sciences and Medical Sciences. The main objective of implementing the university at the time was to develop Brasília as a cultural center of Brazil, promoting the assistance of public authorities centered in the city.
Currently, UnB has four campuses in the Federal District. The first one is the Darcy Ribeiro campus, located in the Plano Piloto, and the campuses of Ceilândia, Gama and Planaltina, satellite cities of Brasília. The current structure has a built-up area of more than 600,000 m² on all campuses, which have a total area of 4.5 million m², with 12 institutes, 14 faculties, 53 departments and 16 research centers. According to UnB's yearbook, during the year of 2020, the university counts more than 49,000 students registered in 130 active undergraduate courses, 134 master's courses and 87 PhD courses.
The result of the dream and work of educators such as Darcy Ribeiro and Anísio Teixeira, UnB has been, since 1962, the year of its creation, one of the main national academic references. The cultural diversity present in its four campuses is one of its outstanding characteristics. Plurality, combined with the permanent search for innovative solutions, drives scientific production and the daily life of the institution.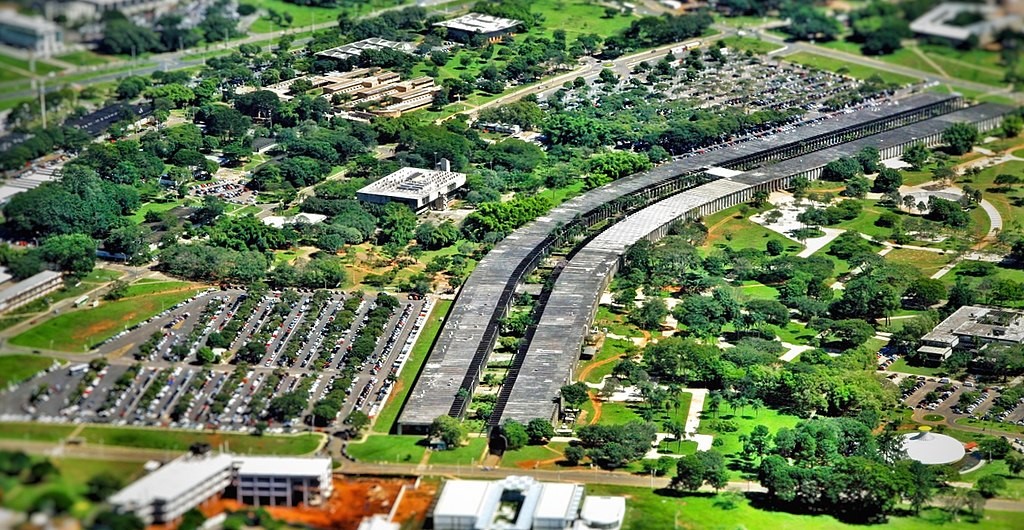 Source: Campus Darcy Ribeiro (31398447555) – Campus UnB Darcy Ribeiro – Wikipédia, a enciclopédia livre (wikipedia.org)
References:
PDE_UnB_Plano_Orientador_UnB_1962.pdf
Capítulo 2 Dados gerais | ANUÁRIO ESTATÍSTICO 2021 ano-base 2020 (anuario2021.netlify.app)